Automatic Pool Cover System by Latham®

Heat-Sealed Webbing
Most automatic cover manufacturers sew webbing material wrapped around rope to the cover. With this method, the webbing often fails before the fabric does. Coverstar uses an exclusive, patented process to heat seal webbing around a polymer bead and weld it to the cover in one step. Independent lab tests show Coverstar's webbing is over twice as strong as competitive webbing sewn to a cover!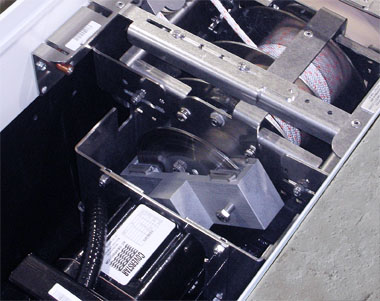 Adjustable Torque Limiter
A mechanical torque limiter protects the motorized mechanism from too much stress. Other automatic covers often use an electronic torque limiter that can fail in the harsh pool environment.
Reliable Mechanism
Ultra strong stainless steel bracket components make Coverstar one of the most durable and reliable automatic safety covers on the market. Coverstar's unique mechanism is engineered with heavy-duty components and with ropes and pulleys that are stronger and larger than any others used in the industry.
Sealed Motor
The motor's hardened stainless steel shaft and oil bathed gears eliminate motor problems. It is sealed against water by the original motor manufacturer. The motor can operate even when completely submerged if the housing is temporarily flooded. Other, less reliable means of motor protection could mean an expensive motor repair.
PowerFlex Ropes
PowerFlex Rope behaves like a shock absorber that allows it to be more forgiving and self adjusting during operation. It also resists distortion that is common with autocover ropes, making it easier to install and operate with fewer adjustments.

Rope Pulleys
High quality rope pulleys are crucial to overall cover system performance. Coverstar systems come with special custom-designed and field-tested rope pulleys that provide maximum reliability in the pool environment.
Coverstar® Fabric Swatches
Eclipse
The Coverstar Eclipse is the only full stainless steel auto cover mechanism on the market with the strongest drive train and biggest pulleys for longer rope life.

Mechanism, rope reel, gears, pulleys, all stainless steel. 2″ pulleys, for longer rope life. 1″ diameter, enclosed drive train, twice the size and strength of competition, enclosed within the rope reel to keep it protected from dust and dirt. Mechanical torque limiter to prevent damage from cover overrun.
CS3000
Time tested and reliable. Perfect blend of function and value. The CS3000 has been been around for two decades, and has shown to be one of the most reliable automatic pool cover systems on the market.

Marine-grade, anodized aluminum brackets and rope reel. Sealed stainless steel pulleys for long life and function. Drive train enclosed within the rope reel to keep it protected from dust and dirt. Mechanical Torque limiter to prevent damage from cover overrun.
Infinity 4000
The Infinity 4000 is full of innovative features that set it apart from other automatic pool cover systems.

Reversible drive gear, allows easy switching of the motor side. Composite rope reel, for great strength and corrosion resistance. Electronic stops with magnetic sensors to prevent damage from cover overrun.
Atom Low Offset
The Atom brings many of the best features of other models into a smaller package, for pool designs not possible with a standard offset motor.

Stainless steel mechanism, Drive train enclosed within the rope reel to keep it protected from dust and dirt. The motor tucks underneath the mechanism, with a sealed Mechanical Torque limiter to prevent damage from cover overrun.
CS300HD Spa
The CS300HD Spa is the most reliable compact mechanism with a full sized motor, made for spas and the smallest pools.

Stainless steel mechanism. Comes standard with the touchpad. Sealed, oil bath gear box on the electric motor. Superior to chain driven, due to chain stretch, and chains being susceptible to corrosion.
Stone or Concrete Lid
Poured stone or coping stone lids allow you to create a completely cohesive look during your pools construction.
Flat Lid
The flat lid option is a beautiful way to cover a new or existing rectangular or freeform pools. Made from heavy grade aluminum with an ultra-long life and a durable architectural grade textured finish that is also easy on the feet.
Aluminum Lid
Coverstar's Standard Aluminum Lid is the most economical option for automatic pool cover lid. The lid is mounted to the top of the deck and has a very low profile.
Flush Deck Lid
The flush deck cover lid is built into the mechanism housing during construction of the pool so that it is completely flush with the deck around the pool.
Aluminum Bench
A pre-formed aluminum bench can be added to any deck mounted top guide system.
Custom Bench
An attractive bench can be made out of cedar, vinyl, brick or other materials to cover over the deck mounted top guide system.
Keyed Safety Switch
Coverstar's key-locked and weather-proof toggle switch is as safe and easy as it gets - Simply flip the switch and in less than a minute your pool is opened or closed.
Standard TouchPad
Coverstar Standard TouchPad allows the user to program up to 4 unique codes to provide secure access to opening and closing your pool.
TouchPad w/ WiFi
The Coverstar Wi-Fi TouchPad option is able to send email alerts when the cover is in use, and tracks the total number of opening and closing cycles of the cover.